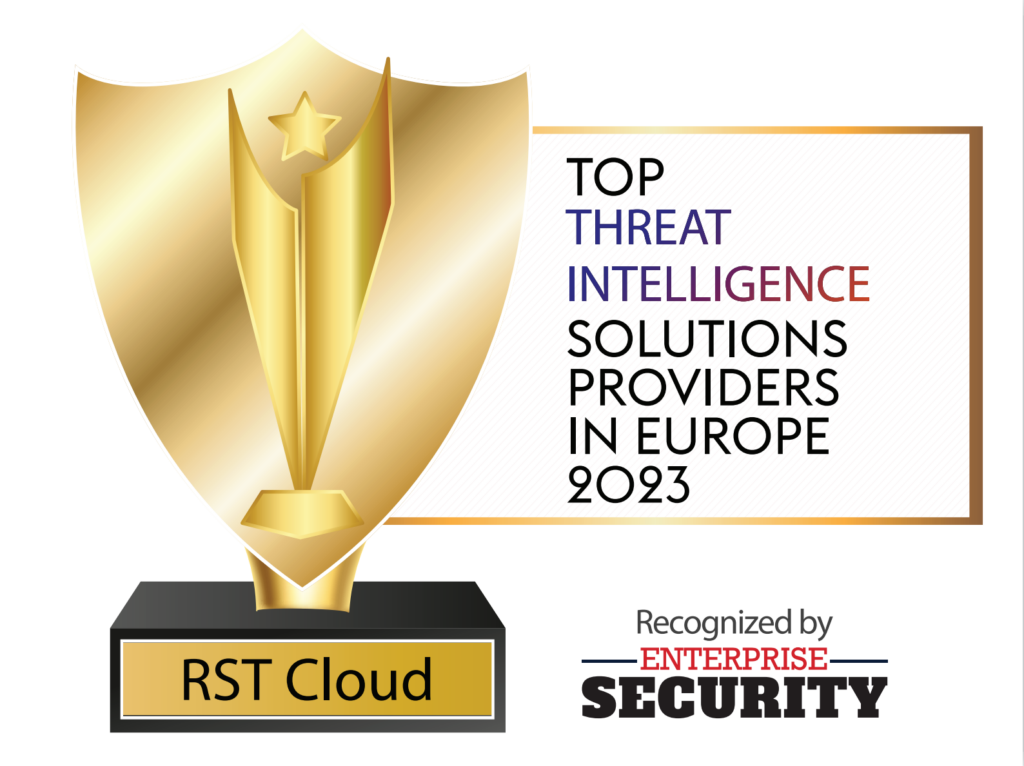 Top Threat Intelligence Provider in Europe
RST Cloud has been named one of the Top Ten Threat Intelligence Solutions in Europe by Enterprise Security Magazine. This regarded award recognizes RST Cloud's dedication to providing comprehensive, accurate, and timely threat intelligence solutions to our clients.
The selection process took into account the quality of services, their uniqueness, and value for clients. The judging panel evaluated companies based on their ability to deliver exceptional threat intelligence, as well as their commitment to innovation and customer service.
"We are proud to be recognized as a top-tier threat intelligence provider in Europe," said Anna Mikhaylova, Business Development Director of RST Cloud. "We provide clients with a suite of threat intelligence services, which includes the comprehensive RST Threat Feed and RST Report Hub services," she added.
The RST Threat Feed service provides hundreds of thousands of indicators enriched with useful context such as malware family, related threats and threat actors, CVEs, infrastructure-related information, and more. All the data is filtered to reduce noise and scored to rank indicators, ensuring that clients can prioritize and deal with the most important threats first.
RST Cloud also offers the RST Report Hub service, which is a digital library consisting of thousands of parsed threat intelligence reports with metadata. These processed reports contain related indicators of compromise, a short summary translated into multiple languages, and the option to retrieve the original report.
"The entire team at RST Cloud is thrilled to receive this honor and looks forward to continuing to provide exceptional threat intelligence services to clients in Europe and beyond," Anna summarized.